Everything is on track for our first Hack+Taiwan event, this post is to give some more info for it.
Information
The overal schedule is outlined in our previous post, basically we start at 9:00 in the morning, and go till 18:00 in the afternoon.
There's an entrance fee of 300NT, that will cover all the food and drinks for the day.
Location: appWorks (Map). 台北市信義區基隆路一段180號5F / Keelung Rd., Sec. 1, No. 180, 5F.
Best way to get there: Taipei City Hall Station, Exit #1, turn right, cross the street and turn right again, till you see the sign for the event. If you got lost, call me on 0932192631.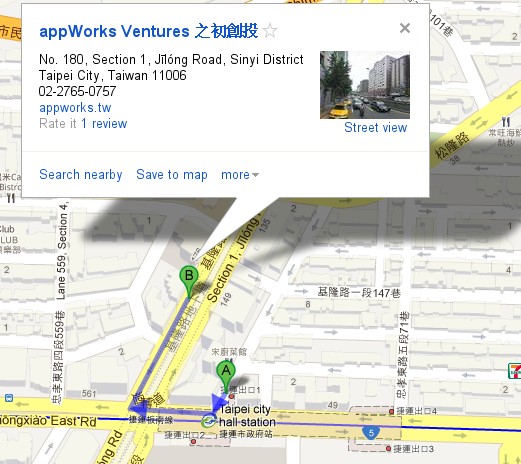 Ideas
For the next two days, you should start to think about project ideas that you would like to create at Hack+Taiwan. What interests you? What things could be done better? What new things you could create in a day? (You will be suprirsed how much can be done in a short time:) Dream big, it does worth it!
Also, check out the tools, languages, software that you will plan to use, refresh your knowledge and get to know them better. And can leave a comment here about what's your favorite techology.
Otherwise, see you on Saturday.
^Greg